Now Serving at The Americana at Brand: Italian "Cicchetti" with a Side of Mediterranean Flair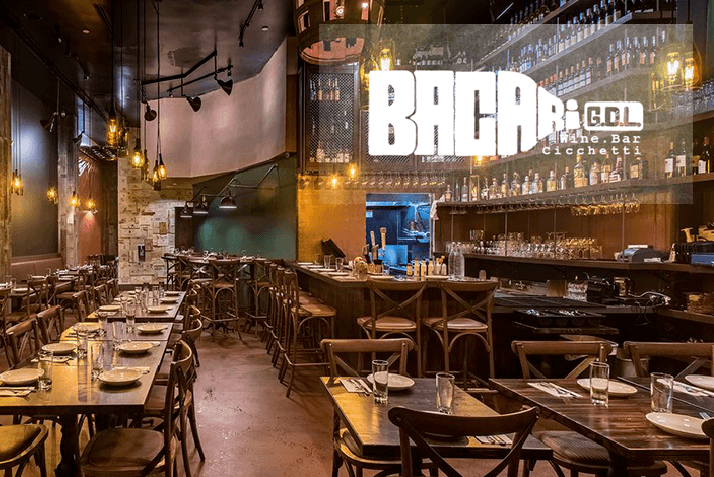 On February 15, owners Robert and Danny Kronfli, and Executive Chef/Owner Lior Hillel debuted the third and newest outpost of the Venetian tavern concept, Bacari G.D.L. at The Americana at Brand, featuring the chef-driven comfort food, well-executed drinks and warm atmosphere that have become synonymous with the Kronfli restaurants.
Joining sister restaurants Bacaro L.A. and Bacari P.D.R., the Glendale-based Italian-inspired restaurant focuses on fire-roasted dishes made in the restaurant's wood stone oven, and incorporates Mediterranean influences from Executive Chef Hillel's Israeli heritage.
We sat down with co-owner Robert to get a taste of what's cooking at the popular new dining destination.
When and how did you and Danny get started in the restaurant business?
Back when I was a sophomore at USC, I was running a restaurant, called Paladar out of my apartment with my roommate. Because there was no class on Fridays at USC, we would host crazy dinner parties every Thursday night, turning our apartment into an underground supper club that served 70 people at $15 a head. At that same time, down the street, my brother Danny had opened his first restaurant, Bacaro L.A. After I graduated, I went into the business with him.
How is G.D.L. different from your other concepts?
The menu is almost completely different. We still feature some of the most popular items from our sister restaurants, like the open-faced Bacari Burger, but 80% of our offerings are new. Chef Lior really killed it with this one. The menu features "cicchetti" [Italian small plates], including my personal favorite, braised oxtail [with doah spice, toasted buckwheat, and shaved radish salad]. Plus, we have a massive wood-stone oven, so we're focusing on homemade pizzas and pastas, which is new for us.
How do Chef Lior's Israeli roots shine through across the menu?
Chef Lior was born and raised in Israel, so it's in his blood and comes out in his food. Throughout the menu, you'll taste undertones of Mediterranean flavor and spices, like za'atar, sumac, doah and romesco. The menu is an eclectic mix of Mediterranean flavors, mixed with Southern Italian and Venetian staples, as well as North American classics. So, you'll find a lamb belly with spinach mirepoix freekeh, and chopped salad with Persian cucumbers, crumbled feta and kale tahini, as well as a traditional mac and cheese.
What is the secret to making everything taste so delicious?
For starters, our blend of the best flavors from all around the world. Plus, we're a dedicated team that is big time on quality control. We never compromise on our ingredients: All produce comes from the farmers market; all meat is locally sourced. We start with the highest-quality ingredients, and then go from there. Mix that with the creativity of Chef Lior and his consistency of execution, and you get delicious food, every time.
Tell us about your wine and cocktail selection.
We specialize in small-production wines from around the world—everywhere from Eastern Europe and the Mediterranean, to South America. We have a rotating wine menu, so if you come in Monday and return on Friday, you'll see a whole new wine list written up on the chalkboard menu. We spend a lot of time and energy sourcing unique wines at great prices (between $9 and $15). We'll always have the really bold Napa Valley Cab, but we'll also have hipster wines you've never heard of.
Our craft cocktails are all creative, approachable and Italian-inspired. You'll find your traditional Venetian Spritz, amaro and Campari cocktails, and tequila-based mules, as well as anything else the bartenders can think up. We give them a lot of room for creativity.
Bacari G.D.L. is now open at The Americana at Brand, serving lunch and dinner, as well as happy hour. Plus, for $25, enjoy "all you can drink" house wines and sangria for 90 minutes (for $30 that includes well drinks too!). You can check out the full menu, as well as the lunch special menus ($20 for 1 pizza, 1 dessert and 1 beverage!) here.  
Photos courtesy of @bacarigdl.