Foodstirs' Sarah Michelle Gellar on Her Favorite Fall Flavors and the Joy of Cooking With Kids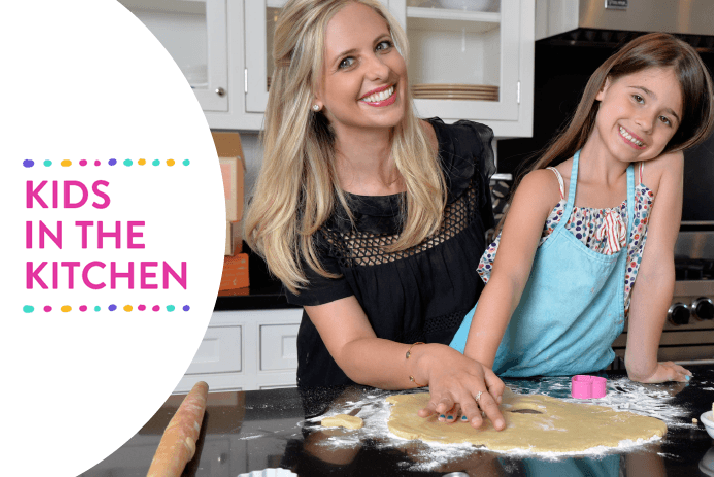 Actress, mother and entrepreneur, Sarah Michelle Gellar, has brought a new level of happiness (and healthfulness) to cooking with kids through the organic, non-GMO and stress-free baking kits created by her company, Foodstirs.
Each kit is designed to bring kids and adults together through a love of cooking and, in turn, create deeper connections, new skills and smarter eating habits.
As Sarah Michelle can attest, exposing children to new flavors is as necessary as it is often challenging, whether cooking at home or dining out.
Restaurants with a family-friendly, lively atmosphere and an eclectic variety of fresh comfort food are a good dining-out option. Places such as Din Tai Fung serve dishes with hints of familiar flavors but with a slightly exotic spin that kids will surprisingly love. The experience of eating soup dumplings, for example, may be exciting for a young child and get him or her hooked on a new cuisine.
Additionally, the popular cuisine of poke—or raw fish salad with different toppings and sauces—might not seem immediately kid friendly, but the mix of rice and savory flavors may go over better than expected. The same goes for ramen. The broth is soothing, the noodles are soft and chewy, and the Asian spices may be a pleasant surprise for their taste buds.
Whether dining out or cooking at home with kids, the opportunities for broadening kids' creative and culinary horizons are endless.
Here, Sarah Michelle shares her passion for cooking and the positive aspects of baking with children.
What is your favorite part about cooking with kids? What are the biggest benefits to the adult and child?
My favorite part of being in the kitchen is the experience of it all. I've realized now that it's not even about the final product but the connections that are made when spending time in the kitchen. When it tastes great at the end, that's the bonus!
We are so busy today that the moments when you are offline and really spending quality time together are crucial. For kids, being in the kitchen builds fine and gross motor skills, as well as math, science and language skills; it also lowers the rates of obesity and depression. As adults, it's all about using the creative side of our brains, the side that leads to all great inventions. And for all ages, it's about those quality memories that last a lifetime.
When it comes to baking, what are your favorite flavors for fall?
Fall baking is definitely one of my favorite times. Pumpkin and cinnamon are not only two of my favorite tastes and smells, but they instantly remind me of my East Coast childhood.
Are there any new recipes/kits Foodstirs is especially excited about this season?
Every time we come out with a new kit, mix or recipe, that one suddenly becomes my favorite. What I love about our mixes is their versatility. What starts as a great-tasting, vegan, organic, dye-free mix can become anything your imagination dreams up. Each week, we give recipes to transform our mixes, or you can do our kits for a guaranteed Pinterest success story.
Which key ingredients can parents try and always have on-hand to be ready for a fun, impromptu baking session?
With Foodstirs kits, we try and provide everything you need other than the staples most parents always have on hand (eggs, butter and yogurt). All of our kits are dye-free, non-GMO and include our organic mix.
If a parent is just starting to cook with his or her child, what is a simple recipe/kit that is good for beginners?
The most important thing when baking with young kids is to remember to embrace the mess. Not only is that part of the fun, it's part of the learning process. You will be surprised how capable young children are in the kitchen, especially when there is a delicious treat at the end.
Join Sarah Michelle Gellar and Foodstirs at The Grove in Los Angeles on October 2 for a special dessert edition of Kids in the Kitchen, where guests can enjoy dessert decorating, crafts, prizes and more! Learn more here.