Three Easy Ways for Men to Look Seasonally Stylish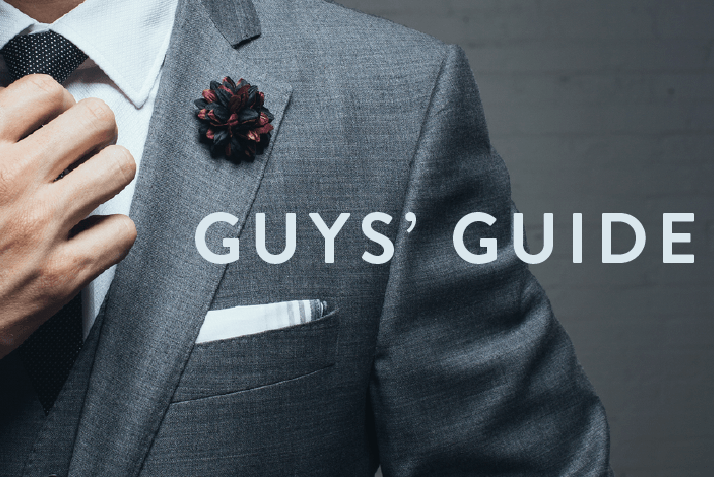 This may come as a surprise, but dressing up for the holidays is not a concept relegated to just the ladies. But have no fear, fellas: seasonal doesn't have to mean sparkly and over the top.
Instead, guys can just as easily embrace the style and spirit of the season by making subtle tweaks to their existing wardrobe. For a look that's festive for everything from cocktails to countdowns, consider these three fail-proof tips and tricks for getting men in the sartorial swing of things.
GIFTED GENTS
For the guy who needs a little help in the fashion department, the holidays are the perfect opportunity for loved ones to gift him the items he needs to flaunt his seasonal style.
Shinola and J.Crew Mens Shop carry the coolest modern gear that's steeped in timeless design. From socks and journals to an always-practical watch, both stores offer covetable items at every price.
Nike and Under Armour Brand House also have the perfect array of gift options for men. Whether for their off-duty look or for actually hitting the gym, performance apparel is a must in every guy's wardrobe.
For stocking stuffers and smaller gifts for office mates and friends, grooming sets from Kiehl's Since 1851 are well-received gifts that many men love but often would not get for themselves.
HOLIDAY HUES
For the guy who has his wardrobe under control yet is looking to inject a stronger holiday vibe, consider introducing a little color in the form of muted tones and subtle patterns to button-down shirts, pocket squares and neck ties. Try not to do all three at once, of course, but choose an area or two to focus on, then mix plaid, tartan, stripes and Fair Isle in with solid basics.
Also, consider introducing a pine-green palette in the form of a neck tie, a merlot hue on a pocket square, or even a gray-green shade on a quilted vest. Punched-up earthy tones still pair well with the grey, black and brown staples, while also adding a festive touch.
Mid-weight flannel shirts with a red-and-green plaid motif are another no-brainer this time of year.
J.Crew Mens Shop has a variety of colors and fabrics that pair perfectly with dark jeans or broken-in chinos. It's a look that moves seamlessly from holiday lunch to late-night cocktails.
The elevated basics at Vince also provide the perfect foundation for a family gathering or an office party. Simply throw on a suede bomber jacket for an instantly pulled-together look. Schott NYC also makes tried-and-true leather jackets that any guy would be thrilled to receive and wear year round.
WELL SUITED
When it comes to holiday suiting, think cozy, textured and tailored. A gorgeous wool suit always works this time of year, especially when paired with a cable-knit cardigan instead of the matching blazer. Opt for deep blue, charcoal grey and warm brown tones, and pair with a sweater vest in a brighter color underneath as well as some crisp sneakers to soften the look.
TOPSHOP TOPMAN does fashion-forward and tailored like no one else, plus its suits feature surprise flourishes that are perfect for this time of year.
Throw on a pair of Cole Haan oxfords for a more traditional touch, and it's a holiday look that is sure to turn heads.
For a slightly more casual suit look, a tailored blazer from Barneys New York or TOPSHOP TOPMAN, plus a pair of dark denim jeans from PAIGE or Vince is a more relaxed way of approaching a holiday party or outing.
Finish off the look with shades from Illesteva for the final punctuation on a truly Southern Californian holiday ensemble.
Medium Hard Linen Journal, Shinola, $19.99; The Guardian Watch, Shinola, $675; Age Defender Collection, Kiehl's Since 1851, $88; Wallace & Barnes Heavyweight Flannel Shirts, J.Crew Mens Shop, $98, photo credit: @jcrewmens; Jagger Wingtip Oxford, Cole Haan, $139.95, photo credit: @colehaan;
Mykonos II, Illesteva, $177, photo credit: @illesteva