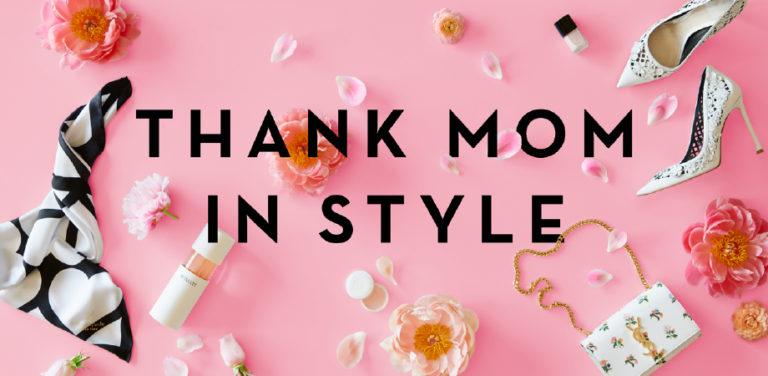 Mother's Day is a special occasion to honor, celebrate and gift the woman in our life who provides unconditional love, support and guidance.  She's a role model, a friend and, to many sons and daughters, an inspiration.  It's a day that I cherish not only as a mother myself, but as a daughter who views her own mother as a real-life super hero.
For as long as I can remember, my mom has been my closest confidant.  She is my sounding board, 24/7 voice of reason and person who gives me confidence to rise above any challenge in my path.  And, undoubtedly, my mother is also my fashion icon and style counsel.
My mom taught me that true style could never be bought.  Whether casual or formal, what you wear is another way to express how you feel on the inside.  There is no right or wrong as long as it's authentic to you.  After all these years, I am still amazed by the woman who continues to be the best-dressed person in the room.  Always.
Inspired by my own gift shopping, this Mother's Day try hitting the top trends of the season (we assure you, mom will appreciate it) to brighten her spring and get her started on a stylish foot.  Jewelry rarely disappoints and is generally something she can wear daily to remind her of the occasion. Keeping up with current accessory trends, go for timeless, understated and versatile, so mom won't feel fussy about wearing her pieces day and night.
Of course the only time she might take off her new jewels is to slip on the latest in tech gadgets for working out. Fitness trackers are so easy to use and work with mom whether she's taking a jog around the neighborhood or doing some serious power shopping.
And if mom is an avid traveler, a pair of chic, Greek inspired sandals and a metallic cardigan are pretty much the key pieces she needs to get her through a summer get-a- way in style.
Here are more ideas that capture the latest trends in style and beauty and that are also sure to capture her heart.
*If you are interested in any of these items for purchase, please contact our concierge at 818.637.8982. For a complete listing of stores, click here for our directory.
From April 20 to May 8, Caruso Rewards members earn double points. If you aren't already a member, click here to join today.
All items subject to availability.