Fashion Advice From Melissa Magsaysay, Lesson 3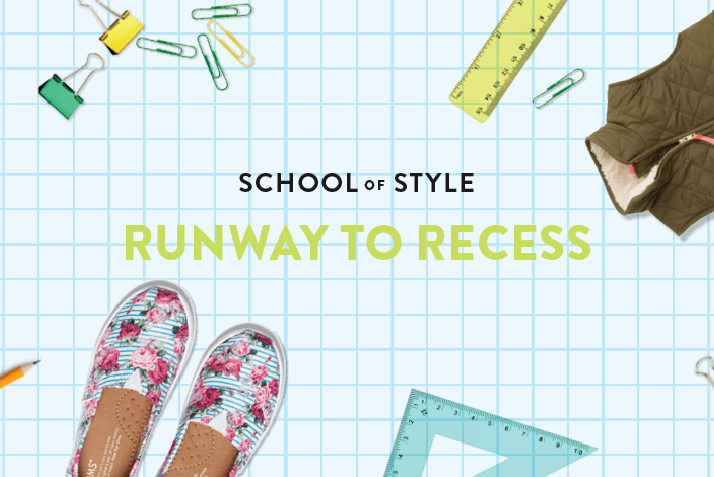 It's always tempting to move kids into mini-me mode, especially while back-to-school wardrobe shopping. This fall, the runway-to-recess vibe is easier than ever as several of the biggest trends for fall easily can be duplicated in littler sizes.
But it's not all fashion for fashion's sake. These particular trends are also practical for the little ones.
Consider the following fall 2016 looks for creating stand-out style that's appropriate for school while still letting your kid's personality shine.
Tory Burch channeled a sporty, '70s equestrian look throughout its fall collection, and this cool puffer coat in a vibrant shade of cobalt is a perfect example of how form and function can comingle effortlessly.
Try a bold-colored topper to throw over any outfit. The color helps a child stand out (especially on a crowded school yard), brings a cheery feel to his or her overall ensemble, and provides some much-needed warmth when the temperatures start to dip. Plus, the gorgeous cobalt blue is a timeless, gender-neutral option so siblings can share and pass it down.
Playing up a sporty '70s aesthetic, Lacoste incorporated plenty of dramatic materials into its fall collection, including chic and shiny ponchos, skirts and tops.
After all, what kid doesn't love something a bit shiny? Whether it's an embellished detail on a shirt or an entire jacket made from a slick material, replicate this statement-making style with something that helps your child shine even more than he or she already does.
The cool, quirky look of Gucci is bound to influence just about every fashion-filled closet this fall. With metallic, floral and fringy motifs, it's anything goes in the best way possible.
The eclectic nature of Gucci at the moment naturally lends to the fun and funky way kids love to dress. Go with an exaggerated floral theme on a dress, sweatshirt or just about anything to show that even the most standard themes can feel exciting again.
Study our cheat sheet for all the back-to-school events, tenant offers and styling tips to ensure your child makes the fashion honor roll this school year.