Dazzling Décor and Lively Performances to Celebrate Lunar New Year at The Americana at Brand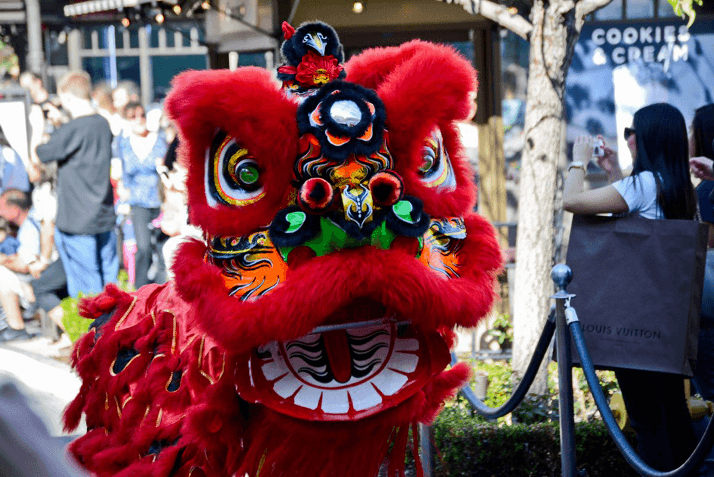 The festive nature of the holidays continues at The Americana at Brand with Lunar New Year and all of the vibrant and meaningful celebrations surrounding this special tradition.
Customs tend to vary, but Lunar New Year is generally a time for families to come together, share meals, and cleanse and decorate the home in order to make room for good luck in the coming year.
January 28 officially kicks off the year of the rooster, which signifies a dawn and awakening. If you are a "rooster" (meaning born this year or in a year of the rooster), it is said you are hardworking, resourceful, courageous and confident.
The storied meaning, tradition and symbolism behind Lunar New Year are all apparent in the dazzling décor and fun-filled activities taking place at The Americana at Brand's ninth annual Lunar New Year spectacular on February 4th.
Floating above Americana Way is an enchanting, larger-than-life red lantern made with diaphanous red fabric and adorned with gold-leaf calligraphy. Another must-see is the God of
Prosperity, a custom-sculpted, hand-painted statue standing at an impressive 12-feet tall atop a pile of gilded ingots and I Ching coins.*
On the day of the event, you will be immersed in a truly authentic and unforgettable celebration that will delight all the senses. There will be a variety of Chinese and Korean performances, cultural bites for purchase from vendors from the KTOWN Night Market (including Cloud Food Creations, Belly Bombz and Nitro-Pop), crafting for kids, stilt walkers, drummers, and dragon and lion dances throughout the property.
For more interactive events, be sure to take part in the raffles, the lucky red envelope exchange (containing money and other surprises!), lantern making, face painting and calligraphy art, all of which add to the unforgettable sights, sounds and sensational festivities of the Lunar New Year.
*Snap a photo by the lantern, statue or other festive décor and participate in our Instagram contest! Just tag your photo with #LunarAmericana and follow @AmericanaBrand on Instagram. The photo with the most likes will be featured on our Instagram account and win a $50 gift card!