Beyond the Brand | The Timeless Allure of Gucci: An Iconic Journey Through Exquisite Fashion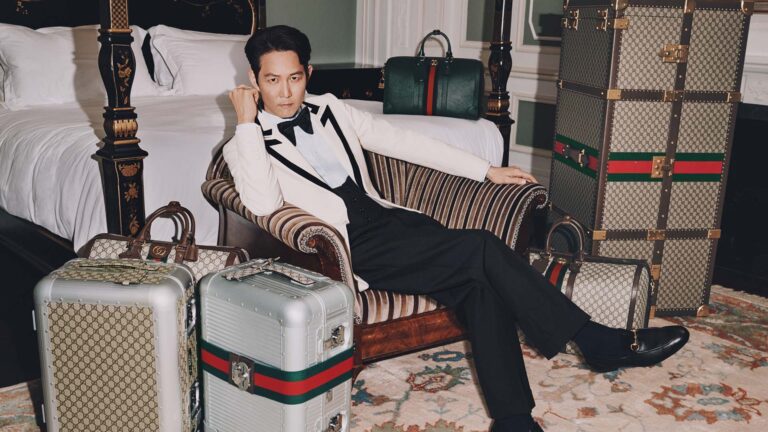 When it comes to high-end fashion, few names command as much prestige and admiration as Gucci. With a rich heritage spanning over a century, the brand has established itself as a symbol of unparalleled craftsmanship, fashion and innovation. Gucci's legacy sets it apart, along with its unique design language and unwavering commitment to exceptional quality. In this editorial series, The Americana at Brand goes beyond the brand to uncover the remarkable heritage that influences Gucci's iconic presence.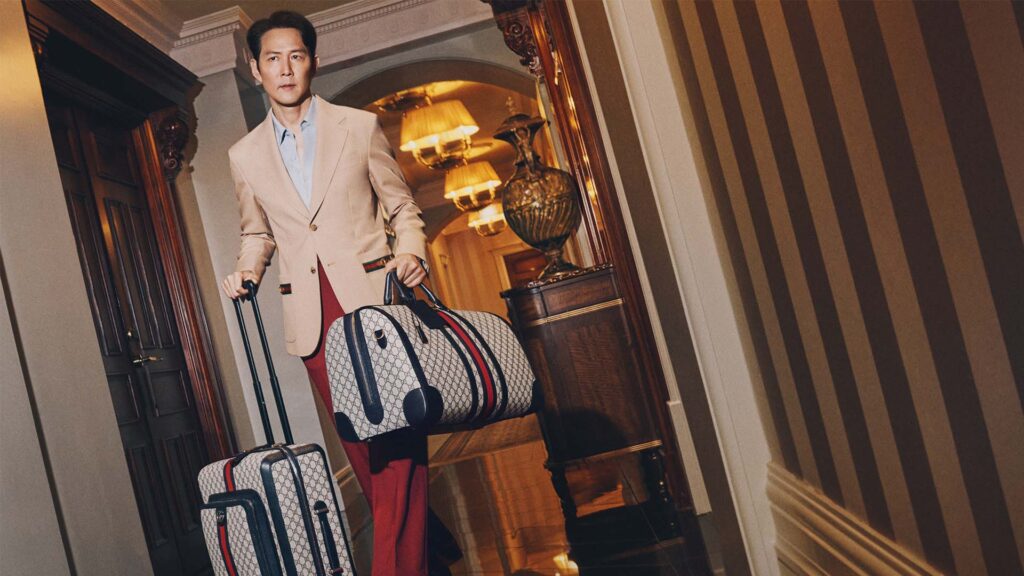 A Legacy of Excellence
Since its inception in 1921 by Guccio Gucci, a visionary Italian craftsman, Gucci has been synonymous with timeless elegance and unmatched artistry. The brand's early success can be attributed to its dedication to exceptional standards, as Guccio Gucci meticulously selected the finest materials and employed skilled artisans to create his exquisite leather goods. Today, this tradition of excellence continues to be a hallmark of the Gucci brand.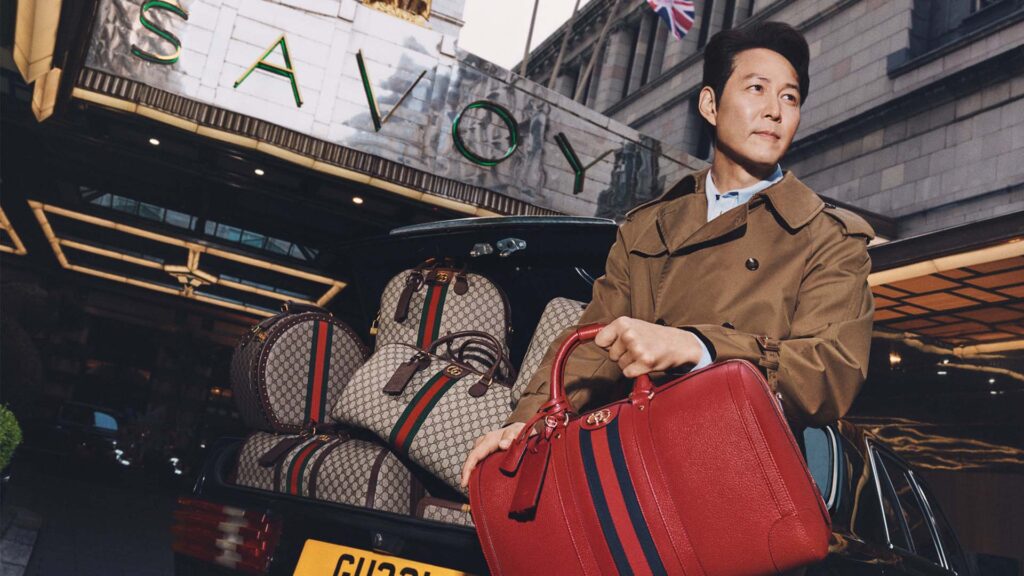 The Savoy persists within the past and present narrative of the House as the inspiration for Guccio Gucci's luggage atelier.
Innovative Design Language
Gucci's design aesthetic is a seamless fusion of tradition and innovation, creating space for its creative directors to leave their indelible mark on the brand. From the iconic Double G logo to the timeless House codes, Gucci's creations effortlessly captivate the imagination. Throughout its history, the brand has shown a remarkable ability to reinvent itself while honoring its heritage. Notably, creative directors like Tom Ford, Frida Giannini and Alessandro Michele have each brought their unique perspectives, infusing Gucci's collections with whimsical and eclectic charms that resonate with fashion enthusiasts worldwide. Sabato De Sarno now brings his vast experience to expressing the House's creative vision with his debut runway collection to be presented at Milan Women's Fashion Week in September 2023.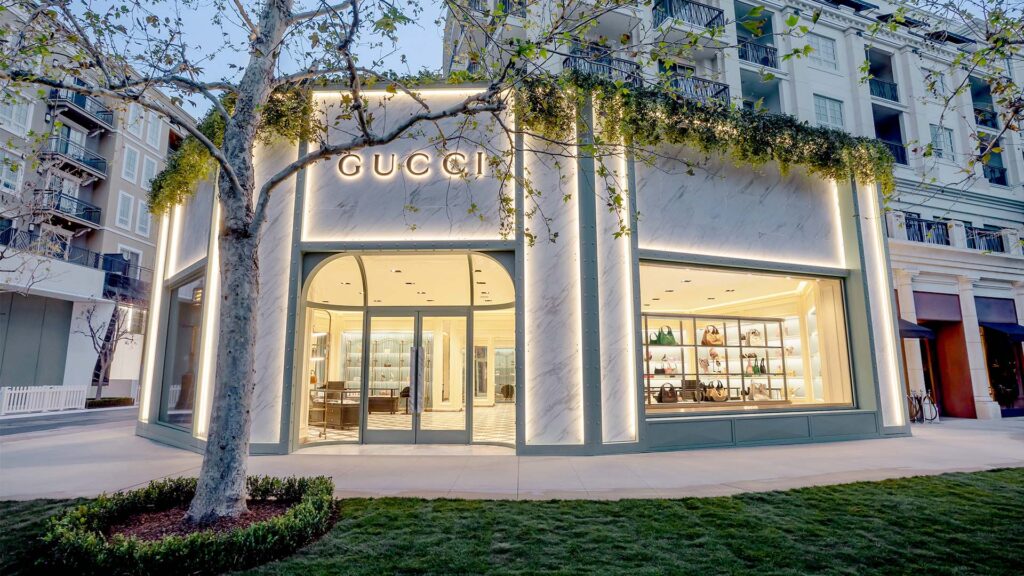 Gucci at The Americana at Brand spans over 6,000 square feet and showcases a wide collection of men's and women's shoes, handbags, luggage, small leather goods, jewelry, watches, and eyewear.
Cultural Influence
Beyond its remarkable fashion offerings, Gucci has firmly entrenched itself in popular culture. The brand's association with celebrities, influencers and tastemakers has elevated it to an aspirational status. Gucci's designs have graced red carpets, adorned the stages of iconic musical performances, and become an integral part of fashion dialogues. The brand's ability to seamlessly merge high-end fashion with elements of contemporary style has garnered a dedicated following among millennials and Gen Z, establishing its significance in the ever-evolving fashion landscape.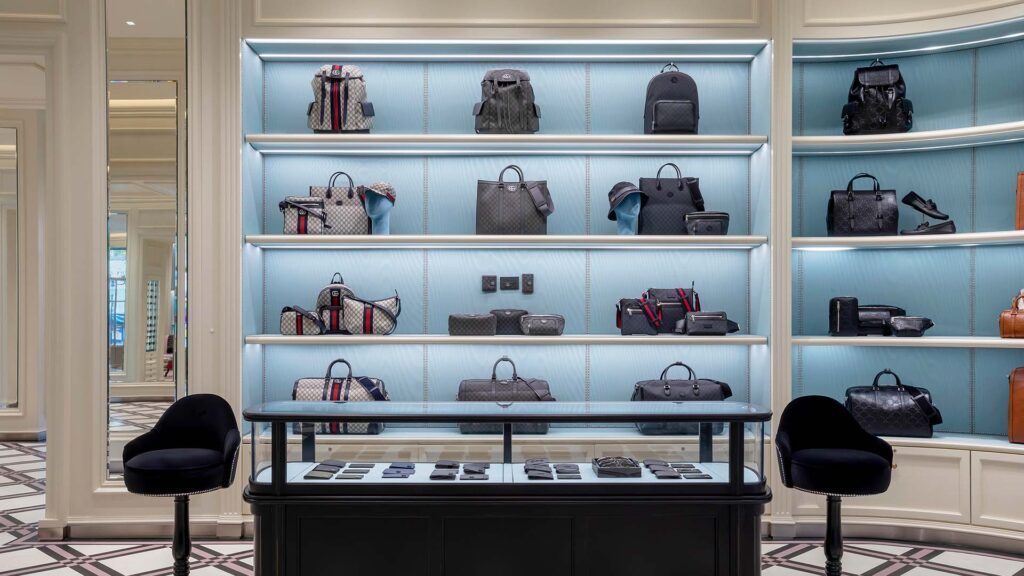 Custom geometric painted wood produce decorative three-dimensional effects on the floors, while being harmoniously integrated with the herringbone wood flooring.
As part of the commitment to implement and enhance eco-friendly initiatives and energy-efficient technologies in the House's stores worldwide, Gucci at The Americana at Brand is LEED-certified and uses LED lighting.
Gucci's enduring allure lies in its ability to consistently push the boundaries of exceptional fashion while honoring its heritage. From its impeccable artistry to its visionary designs, Gucci continues to captivate the fashion world and inspire countless others. As the brand evolves and embraces new challenges, it remains a beacon of elegance, innovation and timeless style — an undisputed icon of The Americana at Brand and the global fashion industry.
THE ABOVE IS WRITTEN BY CARUSO, AND THE OPINIONS EXPRESSED ARE SOLELY THOSE OF CARUSO. GUCCI HAS NO AFFILIATION WITH CARUSO OR THE AMERICANA AT BRAND, AND NOTHING HEREIN SHALL BE DEEMED TO IMPLY ENDORSEMENT BY, OR AFFILIATION WITH, GUCCI.